Can it get any hotter or not? Spent the past weekend at home and the whole house was simply like a greenhouse.
It's already approaching evening time and you can feel the hot heat raising from the ground right here where I am waiting for my dad to pick me up from my workplace.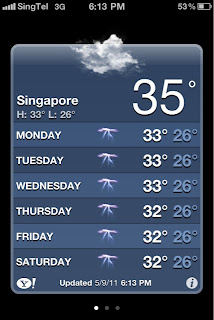 It's less than a week before I say goodbye to this place. It's nice knowing the people here especially J and my rather dramatic boss who is too good to be true. Well, it's a pity. But one really needs to move on when the time is ripe.
This move on is rather a quick one though.
My neat workspace and it really is this way always.
- Posted using BlogPress from my iPhone