Today the girls and I had fun during our morning walks. Ok this is nothing much exciting. But we finally got kerri on the quinny stroller seating upright and she loves it. And Keira the busybody little helper insisted that she push Kerri. So there I have 2 happy kids with the mummy relaxing for a while although I still need to help Keira maneuver it as she is only good in pushing straight.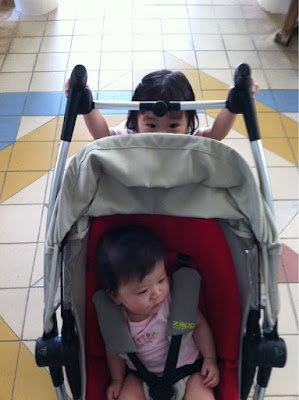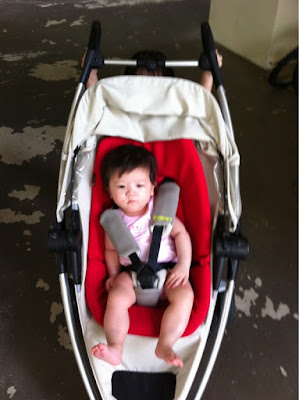 Here she's asking Kerri whether she enjoy herself with the shade that she asked me to pull down for her.
Kerri looking rather comfy in there.
Animated Keira having her Bread time before we made our way home
While coming back from our walk, we met the Australian neighbors in the lift living on the 9th floor. Keira was acting all shy when they tried to strike conversations with her. But the moment they were out, she got all excited.
Kerri seem to say huh, mummy. So fast and we are back home?
I think she has crush on Caucasians. Just yesterday we were having dinner at the Japanese restaurant. We were seated beside a table with dad is a British and mum is a Chinese and they have 2 cute looking boys aged around 11 I think.
She was practically trying to catch their attention throughout and when they left, she waved to the boys umpteen times and when the parents tried to say bye to her, she looked at them blankly. The mum muttered she just want to talk to the boys to the husband.
Oh well... Anyway, back to Kerri.
She now manages to 'walk' in the jumperoo and can go one round without assistance instead of just sitting in that same spot.
She is getting real good in seeking attention. She now loves looking at her fingers a lot and trying to pull her foot up and suck them.
She loves her baby biscuits and apples which of course she is only sucking on their juice. I regretted not buying the mashed bag that can hold fruits for babies to suck on from states as Keira never like sucking on anything except the soother and her milk bottle.
She is simply just such a cutie pie to look at all the time even when she's crying. That's my little pumpkin.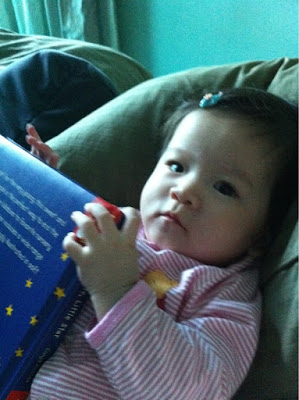 On the other hand, my dear Keira is becoming so talkative and it's hard not to miss her nonsense kind though she's still quite a brat. I must admit I find her so much adorable now with her new found talking skills and how she interacts with us like a small adult.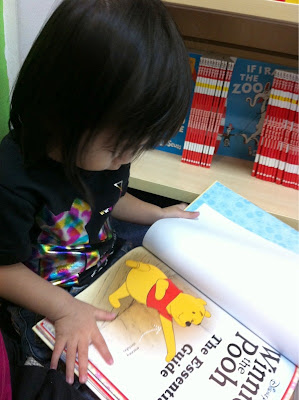 Like earlier on when she wants to get up to the bed after I asked her to grab the book from the bedside table. She said: 'mummy, help keira'. I ignored her cause it's so funny. And then she said again: 'mummy, help Keira. Keira take book.'
For the past few days, she has been asking for apples the moment she wakes up. And now she eats them with the skin.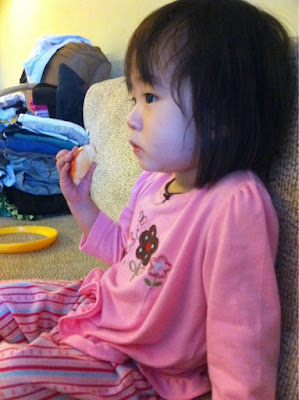 I am amazed at how kids talk now. I don't know whether I talk like that when I'm 2.
- Posted using BlogPress from my iPhone