This was the first time we went there and we will definitely be back for more.
The steaks are reasonably priced, quiet ambience, free parking and they are rather well prepared.
Met up with the group for dinner and had a cake cutting session for DL. Ha!
I ordered the NZ ribeye while hubby got the lobster and steak combo that cost around $25 only. Ok the lobster is only half side but it's quite a big one I must say so.
My ribeye was cooked just the way I like it. Medium well with a tint of red but no bloody show for about $18 and to add soup, salad, drink and dessert we just need to top up about $4.50.
Fresh oysters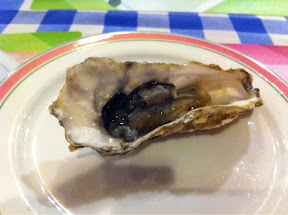 Salad
My ribeye
Hubby's lobster and steak combo
The birthday boy who looked kind of surprised
Keira wants to join in candle blowing too
Sulky Keira
- Posted using BlogPress from my iPhone